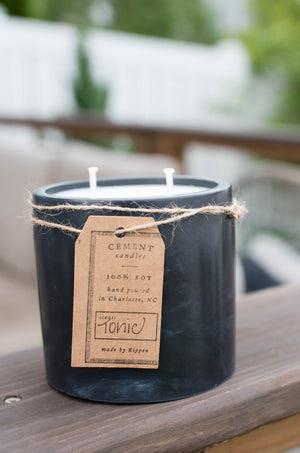 Large Cylinder Concrete Candle
Sale price Price $36.00 Regular price Unit price / per
This classic holds over 13.5oz of our special virgin coconut soy wax and your choice of our high end phthalate free oils and cotton wicks.  
As with all of our containers, this one makes a great planter after the candle is finished.
Dimensions
4"H x 4"W
Please allow the candle to reach a full melt pool every time you light it as soy wax will retain a "memory". This will happen when the wax is completely melted around the entire diameter of the candle, about 2 hours. This will ensure a clean, even burn for the life of your candle. Trim wick to 1/4" before every burn. Do not burn for more than 4 hours and please be smart about where you burn.
*because each piece is handmade, there may be slight variation in color or size*
Need help selecting a scent? Check out our scent descriptions.